Corporate Cooking Challenge
The focus of this event is to align two to three teams against each other to compete in a cooking competition. Each team will prepare a meal that will be plated family style and shared with the entire group.
The client will be able to choose 2 to 3 dishes from one of the featured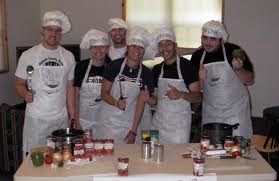 cuisines.
• Each team will be under the supervision of an Executive Chef of the day (Catherine, Veronica, or another Chef TBD)
• Prior to releasing the team to begin the meal preparation the Executive Chefs will lead the team(s) in reviewing the recipes for meal of the day, and activities that are needed to prepare the team for their foray into the kitchen. These activities will include a short training in knife skills, kitchen safety & sanitation. (20-30 minutes in length).
• Each team will then have 15 minutes to strategize, select a Sous Chef/Team Lead, and assign tasks for preparing the meal.
• The strategy or plan needs to be signed off by the Executive Chef before the team can begin cooking.
• Teams will be scored on their planning skills, knife cuts, teamwork, overall taste, plating & presentation, kitchen safety & sanitation.
Event takes place at our commercial kitchen location in Phoenix, Arizona.